White Ink Workflow Improvements
Attention DTF and DTG users.
The December 2, 2022 release of Wasatch SoftRIP includes some significant improvements to the following printers, when users are printing for DTF or DTG.
Binterjet PSD DTF printers
Calcomp DTF printers
Epson F3000
Epson F2100
TitanJet DTF printers
Printwant PW300 for DTF
Epson SureColor V7000
Various Mimaki printers
This update is free of charge for all Wasatch subscribers.
The selection "No Auto-Generation" is commonly used in workflows where white ink is defined by the arriving files, or by spot color replacement in SoftRIP.   This release updates this workflow to allow chokes to be applied to the arriving white ink channel, correcting problems with white ink "peeking out" at the edges of prints.
The new selection, "Replace black ink with black substrate", is superior to our older method of performing this important operation.   This is important both for saving ink, and for improving the "hand" of prints on black material.  Users of Epson's Garment Creator software will find this to be a close match to the "Garment Black" setting of that software.
Existing imaging configurations and color profiles will work with these new modes in some cases, and we are now collaborating with Binterjet and Epson America to create additional configurations.
These updates will be available for more printer models soon.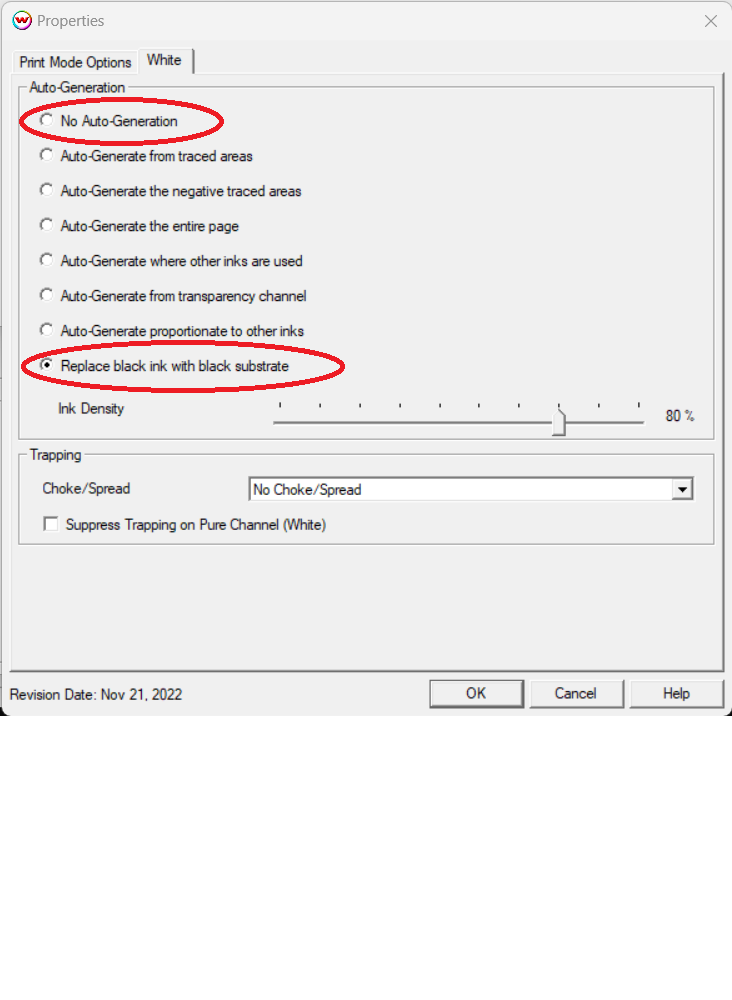 With a subscription to Wasatch SoftRIP you always have access to the latest revisions, newest features and device support, and unlimited access to the Wasatch service team.