Wasatch SoftRIP Version 6.6
The Wasatch Tracer, released in SoftRIP Version 6.6, allows users to create contour cut paths or generate white ink plates directly within SoftRIP. This innovative tool improves workflow, simplifies the cutting and white ink production process, and gives users complete control over contour path creation.
The Wasatch Tracer provides a streamlined workflow for creating contour cut paths in SoftRIP. It is quick and interactive, and equally effective for both raster and vector graphics. The Tracer also provides an easy-to-use, streamlined workflow for creating underlays, overlays, varnishes, second surface prints, and other non-color separations directly in Wasatch SoftRIP.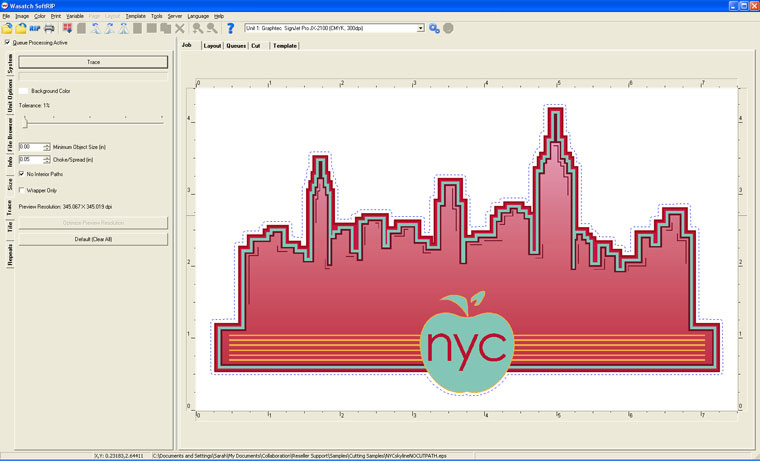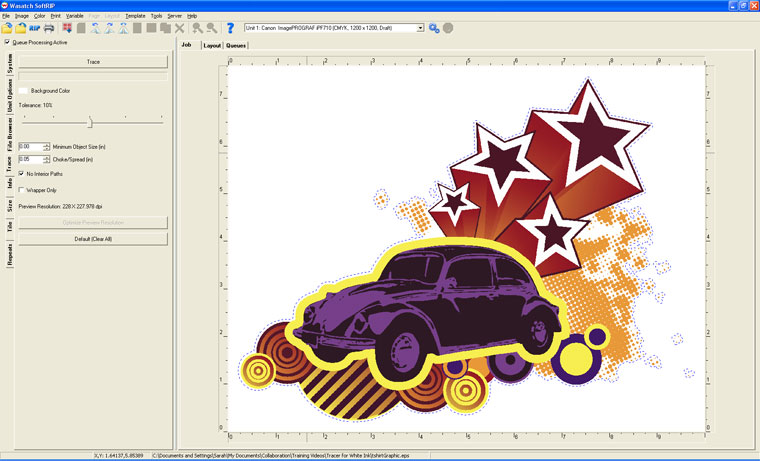 Simplified Production Process
No matter what your cutting or white ink production process, the new Tracer available in Version 6.6 will simplify it! Whether you're using the Tracer to produce your contour path or using a contour path created in a third party graphics application such as Adobe® Illustrator®, Adobe® Photoshop®, or CorelDRAW®, the new workflow streamlines the process to save you time and hassle.
The Wasatch Tracer gives SoftRIP users complete control of the contour path creation process. With the ability to change the background color, set a tolerance level, specify a minimum object size, apply a choke or spread to the contour path, exclude interior paths from being traced, create a wrapper around the image, and auto-generate white from traced areas, users can customize a contour path to work for nearly any cutting or white ink situation.