Wasatch SoftRIP Version 7.3
Barcode-driven workflow, support for image file formats used in direct-to-garment printing, and new management tools for shops that run multiple shifts, are some of the new features in Wasatch SoftRIP Version 7.3.
Printing barcodes alongside every job is an important factor in many workflows, especially for high volume shops. Wasatch SoftRIP now includes an option to print a barcode and file name with all your print jobs. And, an option to mirror your annotation makes this feature useful in a variety of dye sublimation workflows.
Barcode annotation is based simply on file names, making it is easy to integrate for those working with Hot Folders.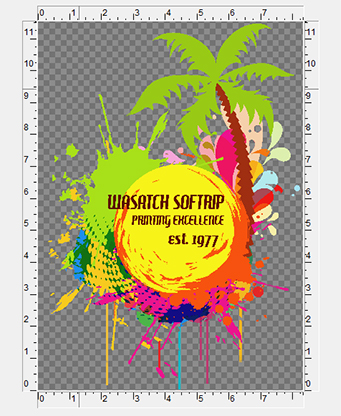 Direct-to-garment printing just got easier! Version 7.3 supports transparency in TIFF, PSD, and PNG files, creating yet another solution in Wasatch for handling direct-to-garment image files.
A file containing a transparent background will appear in Wasatch with a checkerboard pattern. The pattern indicates the portions of an image that is transparent and, therefore, will not lay down ink, allowing the garment material to show through. This will use less ink and improve the overall feel of the garment.
Creating files with a transparency or an alpha channel is also useful in white ink workflows. Set up your white ink generation preferences in Wasatch and alpha channels will automatically be recognized and print accordingly.
Effective Workflow Enhancements
Many users will RIP and print multiple-page PDF files through Wasatch's Hot Folders. With this release, users can easily find a particular PDF page in the queues with an improvement of how Wasatch displays the file name.
Wasatch Queues provides more information than ever about your print jobs. The print queue properties window now includes the date and time of all jobs printed, so you know exactly what was printed and when.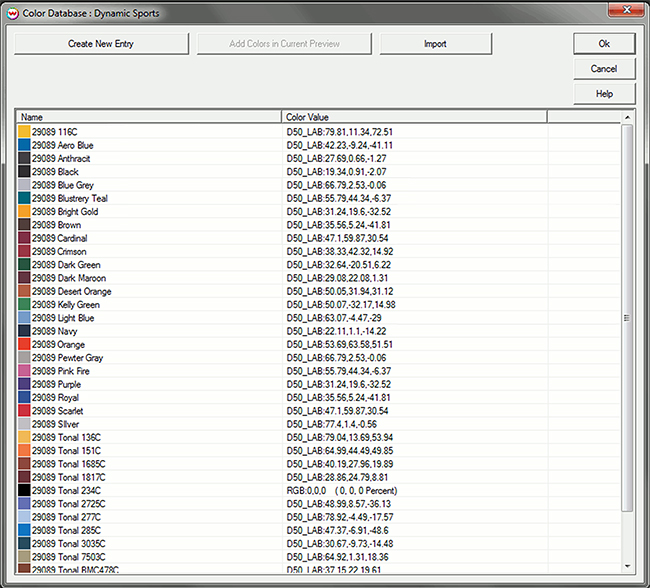 This release contains tools that allow you to control your printing process in more depth. Including the ability to lock controls under an administrator password, such as Print Setup and the Cost Estimator; and a revised roll feed counter that warns you when your printer is nearing the end of a roll.
Creating and maintaining a color database in Wasatch has become increasingly important, especially for textile users. Sorting color names in the Color Database and Special Color windows is now possible, making it quick and easy to find the saved color you need. Plus, a color database can conveniently be transferred from one Wasatch installation to another, so a facility with more than one copy of Wasatch can efficiently manage saved colors.