The Power of Hi-Fi Printers
Today's Hi-Fi printers, with six or more channels for ink, are transforming the way digital color can be reproduced. Wasatch provides support for state-of-the-art models from Epson, Mimaki, Roland, and others.
With Wasatch SoftRIP, you can print six channel Hi-Fi color with CMYK plus orange and green inks. Print brilliant images with a greatly expanded color gamut while getting predictable results from the ordinary CMYK and RGB data produced by popular software packages.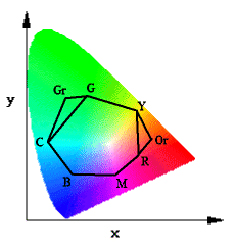 You can also use light density cyan and magenta inks along with CMYK and Wasatch's advanced halftoning to produce incredibly smooth tones and crisp details. Combined with the 720dpi and 1440dpi resolutions of new printers, the improvement in "perceived resolution" has enabled us to produce some really amazing continuous tones.
High quality color separations from your Hi-Fi printer
With inkjet printers now achieving resolutions of 1440dpi and more, many people have begun to produce large format color separations for screen printing and other printing processes.