SoftRIP pays for itself quickly in saved time and media. Most RIP software that is bundled with inkjet printers only includes the basic features necessary to drive the printer. But, with a quality RIP like Wasatch SoftRIP, you get the workflow tools you need to save time and media and meet your printing objectives.
Smart Nesting for Big Savings
There is no one layout option that works best for all users. SoftRIP has automatic Smart Nesting options to help you create layouts that meet your printing objectives. SoftRIP's easy-to-use interface also allows you to manually create your own layouts.
Whether your top priority is conserving media, cutting down on trimming time, or finding a compromise between both, SoftRIP has a solution for you. Tightest Fit saves the most media, while Super Easy Cut saves the most guillotine trimming time. Our best-of-both option, Easy Cut, balances media and time savings with an innovative turn-and-trim layout.
Layout Workflow Flexibility
SoftRIP lets you prepare your images in the direct-to-layout window or hold single jobs to arrange later. You can also combine RIP'd files with new jobs and even rotate pre-RIP'd images to conserve media.
The direct-to-layout workflow uses the full width of your media as a digital canvas. You can drag and drop images into the layout window and prepare them to print as a part of your overall print run or use images that have already been RIP'd as part of another layout without having to re-RIP those files.
Wasatch Templates
Wasatch Templates save hours of prep time for users who need to repeat layouts, use exact placement, or print with strict registration.
This powerful feature allows you to save layouts and image location, alignment, and scaling attributes so you don't have to manually adjust your job every time you need to print. With templates, file preparation is complete in three simple steps: drag, drop, and RIP.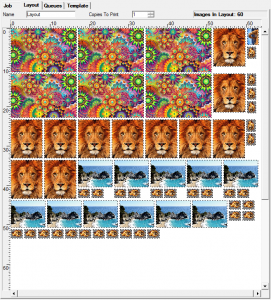 Tightest Fit
Saves the most media possible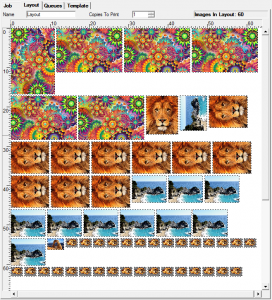 Easy Cut
Turn-and-trim saves media and time