Downloading media settings with Epson Edge Dashboard
The first steps are to install the Epson components we list on the following web site:
https://wasatch.com/epsoncomponents/
Specifically, the printer's communication driver, Epson Edge Dashboard, and EpsonNET should be installed.
Then in the Epson Edge Dashboard you will need to register the printer before downloading the media settings.
After starting the Epson Edge Dashboard, your printer should be automatically registered. However, if the printer is not automatically registered then register it manually.
To register your printer manually, go the Printer Registration screen. Note: This screen is displayed upon starting up Epson Edge Dashboard for the first time. Click Add Search to begin a search for any printers to register. Printers that are found are added to the printer list.
Downloading Media Settings:
You can download media settings to the printer by using the Epson Dashboard.
From the Dashboard's home screen, select the printer (see illustration 1 for example of the F10000).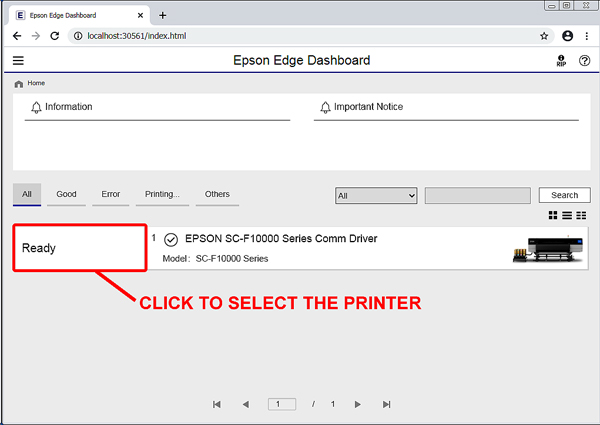 The steps below are for selecting and installing downloaded media settings onto the Epson printer (see illustration 2).
Step 1: Switch to the Media tab.

Step 2: Click the Cloud icon to search for available media settings, and download.

Step 3: Select the appropriate settings.

Step 4: Choose the slot to copy the media settings into. If the slot selected already contains media settings then they will be overwritten by the new settings.

Step 5: Click the arrow icon to transfer the media settings into the target slot.

Step 6: Click Apply to accept(save) the media settings transfer.