Wasatch SoftRIP License Management
Wasatch has created license management tools for partners who purchase subscriptions on behalf of their customers.
This is a great way to set up a "loyalty program" to secure and retain sales of ink and consumables.   Taken along with Wasatch SoftRIP's features for the locking of color profiles, it is a powerful way to enhance revenue.    Because you control the service, this system can also be used for credit management.
To start managing SoftRIP subscriptions, please first create a Wasatch Cloud Account and contact us to have your dealer conditions applied to the account. Once active, your Wasatch Cloud reseller account can be used as the single access point to manage multiple subscriptions.
Once logged in to your Wasatch Cloud dealer account, you will see your margin displayed in the header. Payment options are also reflected in 'Payment Methods' for applicable credit accounts.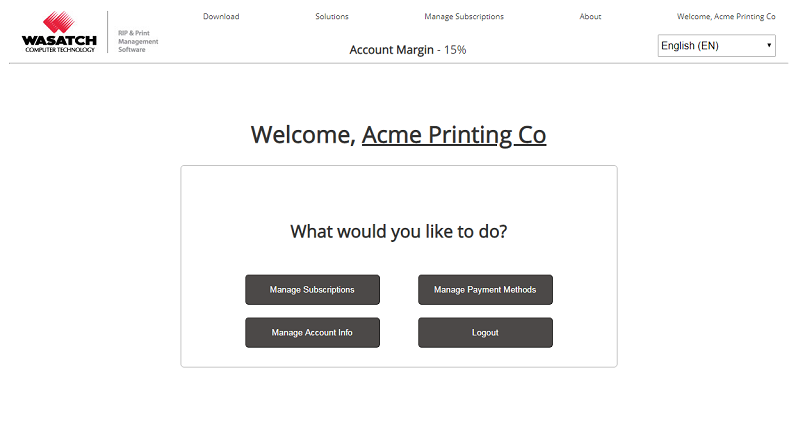 Once logged into your Wasatch Cloud account, click 'Manage Subscriptions' to review or add subscriptions. Scroll to 'Begin New License' in order to purchase a new Cloud license.
Use 'Register Existing License' if you have a USB dongle you plan to provide your customer.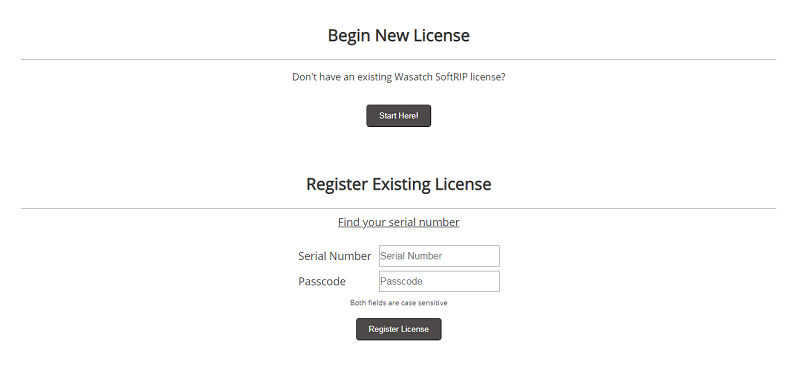 Choose the subscription type to apply to the new license. Review subscription terms here.
Add-on options and additional queues (two are included) can be applied here as well.
Confirm printer support by checking the supported printers list, as some drivers carry an additional fee.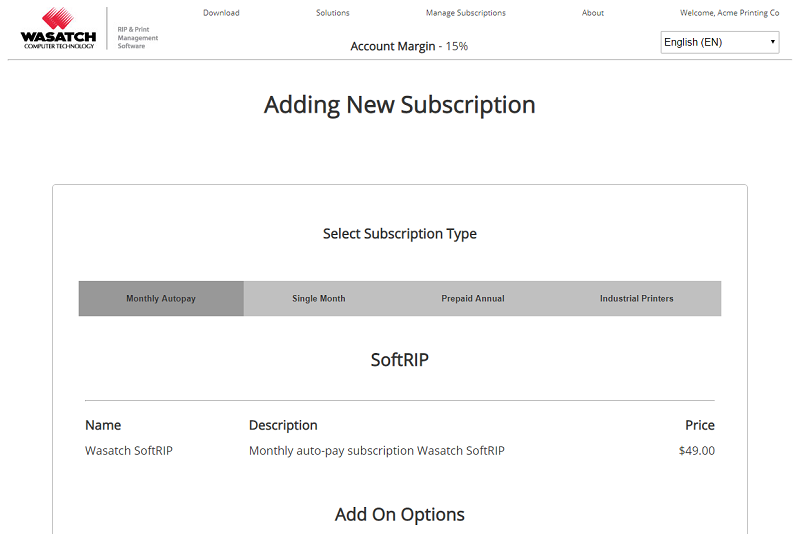 Wasatch offers two license types: Cloud license or USB license.
If USB is chosen, an additional one time fee of $300 will be applied. The shipping address will default to that on file, so please enter your customer's address here if direct shipment is required.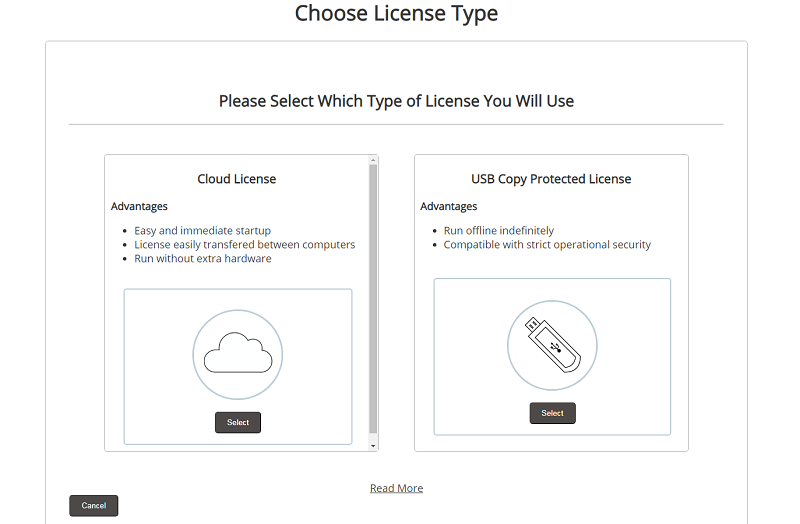 After completing payment, the license is immediately ready for use. If the subscription has been assigned to a USB dongle license, proceed to download the software and registration codes will be automatically installed if the customer is online.
If the subscription has been assigned to a Cloud license, click 'Transfer License' to transfer to your customer.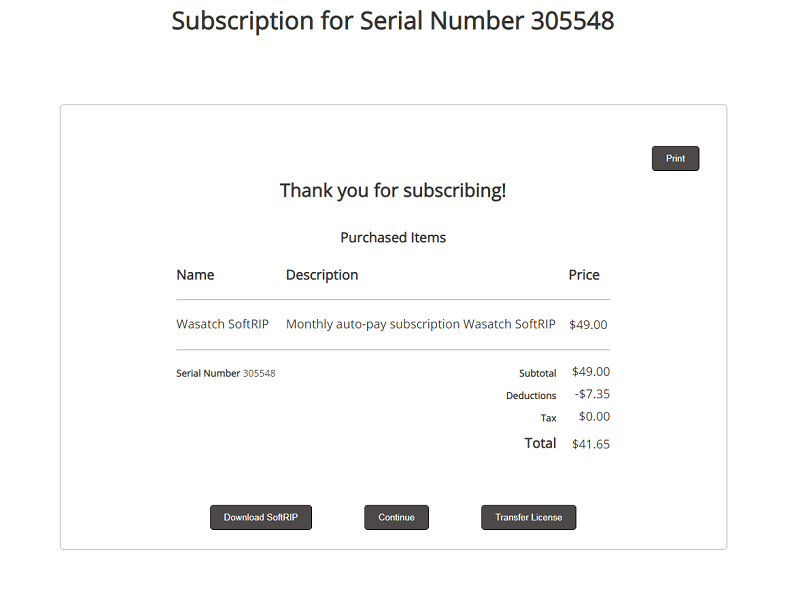 Also accessible from the Welcome Screen under 'Manage Subscription', the license transfer option allows you to securely transfer a Cloud license. You'll be asked to re-enter your Cloud account password, followed by verification of the recipient's email address. Once completed, this transfer will initiate an email to your customer with a password and instructions on activating the license. You will receive a copy of this email for your records.
Did your customer lose their password? No problem. You can reset this yourself under 'Manage Subscriptions > Manage License > Change Password.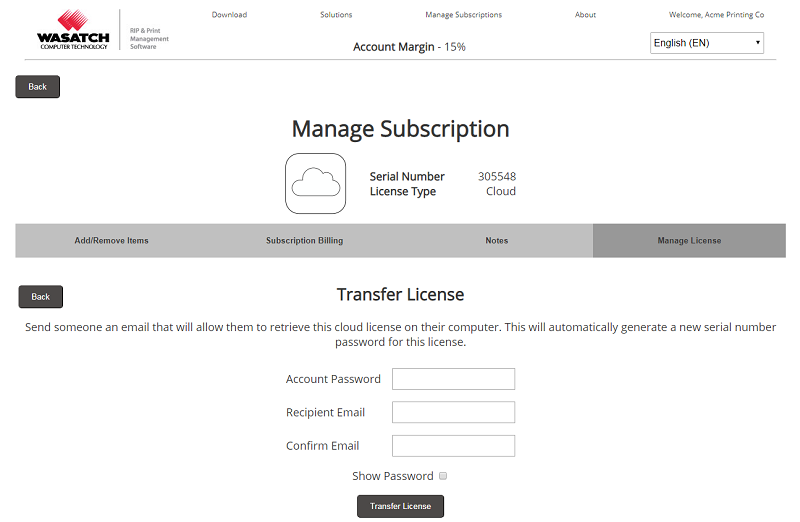 Under 'Manage Subscriptions', find a complete list of all your purchased licenses. You can view subscription expiration dates, and add custom notes to identify and organize customer information.
The option 'email registration codes' is useful when a customer site must be offline and registration codes can't be automatically retrieved from the Wasatch Cloud database.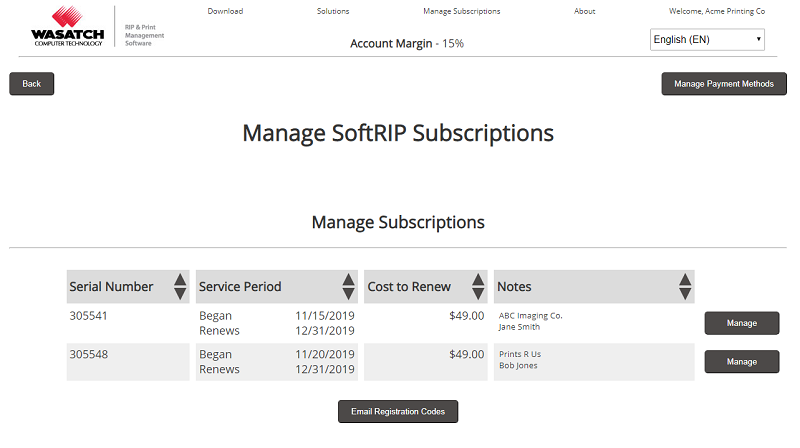 Notifications and Transaction History
From the Welcome Screen, find additional tools under 'Manage Account'.
Notifications: Opting in to renewal and/or expiration notifications allows you to be warned via email of upcoming subscription events. This selection applies to all subscriptions tied to the Cloud account.
'Transaction History' allows you to review details of a specific purchase.